Thursday, February 12, 2015 / by Richard Reid
FOR IMMEDIATE RELEASE
Real Estate Expert and Educator Richard Reid Signs Publishing Deal With CelebrityPress To Co-Author "Top Dollar"
Richard Reid will team with several leading real estate experts from across the country to release the new real estate book "Top Dollar."
Atlanta, GA – February 10, 2015 –Richard Reid, Realtor, Expert Advisor, Writer, Speaker and Educator, has joined a select group of leading real estate experts and entrepreneurs from across the country to co-author the forthcoming book titled, Top Dollar: The World's Leading Real Estate Experts Reveal Proven Price Strategies So You Can Get Top Dollar for Your Home in Minimum Time! The book is tentatively scheduled to be published this Summer.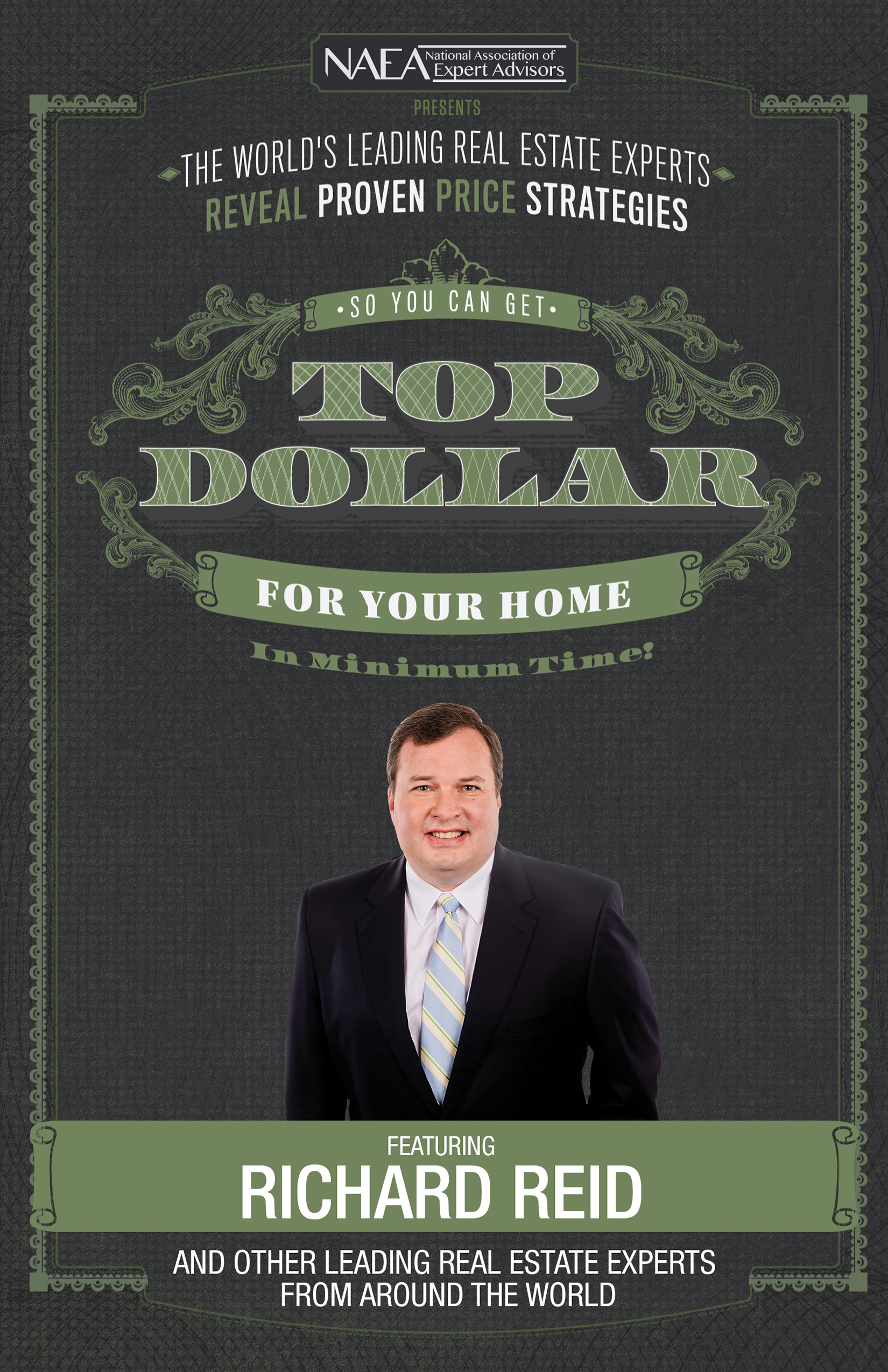 Richard Reid realizes his clients' real estate hopes and dreams through his unique approach to the market. His entrepreneurial upbringing makes him uniquely qualified for this task. Richard grew up in a family where owning your own business was assumed, and he enjoyed seeing his parents create several thriving businesses. Through his career, Richard has excelled in the worlds of retail banking, automotive sales and finance, software development, and real estate. Real estate is his stated profession and passion because it leverages all of the previous careers.
Richard's personal real estate practice is centered in the Atlanta and Decatur markets. Here he works with buyers and sellers to deliver an entirely new level of service in the real estate industry. Richard is able to leverage his understanding of finance, 20 years of living in the market, and 10 years of selling Atlanta real estate together with custom real estate software tools and proven real estate processes that allow his clients to save countless hours per transaction. He has developed a team of professionals to provide consistent service at every point in a real estate deal.
Richard developed training and educational materials to offer a curriculum and a path to agents looking to dramatically improve their real estate business. "The Ultimate Buyer's [Agent] Blueprint" features 8 CD's, a manual and workbook laying out best practices for building a successful buyer's agent business.
Nick Nanton, Esq. along with business partner, JW Dicks, Esq., the leading agents to Celebrity Experts® worldwide, recently signed a publishing deal with each of these authors to contribute their expertise to the book, which will be released under their CelebrityPress™ imprint. A portion of the royalties earned from Top Dollar will be donated to Entrepreneur's International Foundation, a not for profit organization dedicated to creating unique launch campaigns to raise money and awareness for charitable causes.
More About Richard Reid:
Richard was featured as an expert in the real estate documentary "Selling America" for which he won an EXPY in Media & Communications from the National Association of Experts, Writers, and Speakers. He has also been featured on ABC, CBS, NBC, and Fox affiliates across the country as a real estate expert – most recently with Bob Guiney on the TV show "Success Today." In 2014, Richard was recognized as one of the Top 500 Marketers in Real Estate by the National Association of Expert Advisors where he has also been recognized for business growth. Richard is also one of "America's Premier Experts" for his commitment to publishing expert content for the benefit of consumers and journalists.
Richard, a graduate of the University of the South – Sewanee, has a strong liberal arts background, a passion for learning, and a drive to educate and empower others to improve their lives. This passion is lived out daily helping real estate clients, building his team, and educating those aspiring to be better agents to serve the communities in which we live.
You can connect with Richard at:
About Celebrity Press™:
Celebrity Press™ is a leading business, health and wellness book publisher that publishes books from thought leaders around the world. Celebrity Press™ has published books alongside Jack Canfield, Brian Tracy, Dan Kennedy, Dr. Ivan Misner, Robert Allen and many of the biggest experts across diverse fields. CelebrityPress™ has helped launch over 1,500 best-selling authors to date.
Learn more at http://www.celebritypresspublishing.com
###
Contact:
Matt Collins
Dicks and Nanton Celebrity Branding Agency®
800-980-1626
Richard Reid, Real Estate Advisor, Real Estate Expert, Atlanta Real Estate, Direct Link Realty, Top Dollar, CelebrityPress
Links:
https://www.prbuzz.com/books-publishing-literature/288280-real-estate-expert-and-educator-richard-reid-signs-publishing-deal-with-celebritypress-to-co-author-top-dollar.html
---